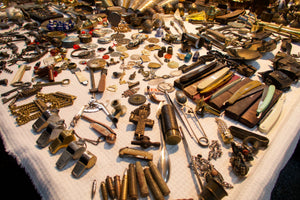 Antique Market Shopping On a Wet Istanbul Day
There are those who like to have merchandise neatly presented to them in chic high priced stores, and there are those of us who get a thrill out of rummaging through heaps of dusty items in hopes of locating that special find.
Istanbul's famous Grand Bazaar is certainly a feast for the senses but hordes of international visitors and pushy vendors can make for a stressful experience. A friend heard of my quest for antiques in a non-touristy venue and recommended a weekly local bazaar with a wide range of items. It was a cold Sunday afternoon and it had been steadily raining for hours. An underground parking garage halfway exposed to the elements was converted to house hundreds of stalls. Vendors relaxed, sipped tea, conversed with each other and kindly smiled as potential customers walked by. 
Some stalls featured standard flea market finds such as dishes, cutlery, second hand books, CDs and toys. While one housed what I was after, vintage jewelry from Central Asia from the Turkman tribe. The lively stall owner noticed my American accent and inquired about my life history, a regular occurrence for expats living abroad. She offered glasses of tea and shared  with us stories of living in Dubai and Lebanon in her youth. It was easy to tell she was passionate about antiques and informed me of the year and place of origin of her good. The most intriguing items were the tribal hair clips approximately 50 years old. As a history enthusiast, I couldn't help but imagine who the woman was that wore this piece and what was her nomadic daily life like back then?
I spent a good amount of time at this stall and was only left with 40 minutes before the market would close up. It was go-time. There was a pep in my step, my eyes were moving a mile a minute as I walked scouring the final isles.My last stop was a vendor specializing in vintage print items from around the world. I snagged a few Turkish cartoon magazines nearly 90 years old and a few vintage National Geographic Magazines with original mailing envelopes. By now stalls were breaking down and I had spent all of my cash. Maybe the smiles were contagious, because I certainly went home with a big one on my face.
To purchase these amazing finds click HERE 
---