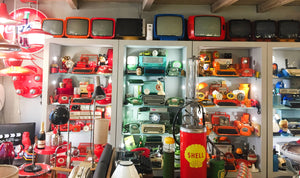 Sustainable Fashion - How Your Shopping Habits Impact the Environment
Who doesn't love vintage shopping? There is something so thrilling about scouring through racks of clothing to find that diamond in the rough. Vintage items are a great way of expressing individuality and at a great price. But how often have you thought of the environmental benefits from buying vintage? 
In our ever evolving society, fast fashion has created a throwaway culture, with items so cheap they have become single-use purchases. According to an article by Sara Butler for The Guardian, in the UK fashion shoppers spent about £3.5bn on Christmas party clothing in 2018 but 8 million of those sparkly items will be on their way to landfill after just one wear.  
Think this is a drop in the bucket? Think again. The Circular Fibres Initiative found that in 2015, greenhouse gas emissions from textiles production globally totaled 1.2 billion tons of CO2 equivalent. This is more than the emissions of all international flights and maritime shipping combined! Its not that hard to believe since a typical pair of jeans takes 900 gallons of water to make. Air drying your clothes for just 6 months saves 700 pounds of CO2. Let's hang! 
Ok, now that we have established that this throw away culture is detrimental to the environment what can we do? First, something that I have been doing for 5 years since living abroad is evaluating my purchase more. Do I really need it? How many things can I wear this with? How long will it last? Another way is to simply repair an item that has a small hole in it rather than throw away. Big retailers such as H&M have brought 'Cleaning and Mending Services' to some of their stores recently. "Shwapping" is becoming popular. While living in Istanbul, I met a close knit group of Turkish teachers who loved swapping clothing and shoes for themselves and their children. What a great way to come together with friends, get new fun clothing, save money and help the environment. Host a "Shwapping" party at your house soon! Other ways to do your part are donating clothing rather than throwing them away, shop at vintage or thrift stores, and upcycle clothing. 
---