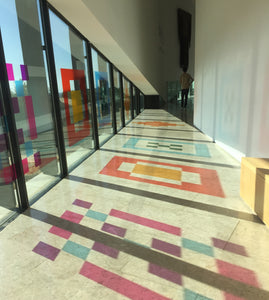 Threads Through Time: A History of Palestinian Embroidery
Palestinian 
cross stitch 
embroidery
i
s a symbol of nati
onal identity and rich culture, g
iven the delicate social and political struggl
es that have faced this region. E
mbroidery was a powerful tool used to stitch history over a hundred years old. 
Palestinian cross stitch embroidery, referred to as 
tatreez 
in Arabic, is the art of creating decorative motifs using needle and thread on fabric. The earliest examples date back to the 1840s.
This art form was mostly worn by Bedouin and ru
ral women from the countryside 
until the year 1948.
 In the early 1900s, you could easily tell what region a woman was from based on her embroidered attire. Things like color, fabric, thread, arrangement of motif on the dress, and motif subject matter indicated what village you were from. For example, women from Galilee wore 
floral or foliage designs in blue and red over white garments. Bethlehem and Hebron were known for their winding figurative motifs, and embroidery of Bedouin women reflected their marital status. Prior to marriage women would wear blue and black, after marriage they would wear motifs with red thread. Widowed Bedouin women would stitch blue thread over their red threading
 to indicate they were no longer married
. 
The most intricate designs came from Ramallah, Bethlehem and Hebron. Dresses, head veils, hats, and jackets were often covered in beautiful and rich embroidery in a variety of stitches
. 
Much of this changed in 1948. 
This was
 the most important year in Palestinian history, called th
e 
Nakba 
(the catastrophe), when the Palestinian exodus took place. During this time more than 700,000 Palestinians 
became refugees after they
 were expelled from their homes by Israeli forces
. 
As expected, 
there was a shift in attire at this time. Economic hardship and lack of access to markets with 
traditional 
thread and fabric meant that new styles formed. Some women resorted to selling their 
tatreez 
dresses for cash due to their 
difficult 
situation. 
In the 1960s distinct motifs were form
ing, referred to as 'new 
dress'
. T
hese motifs were almost 
entirely in cross stitch, with the use of 
different combinations of colors, and different arrangement
s
 of European and Palestinian motifs. 
Much of the European influence was due to foreign aid workers and fashion magazines provided
 in the camps
. 
Since most of the embroidery was being done in refugee camps at this time, design was no longer indicative of your village or region
 due to this fragmentation.  
In the 1980s and 1990s
 the 
Intifada
 (the Uprising) 
occurred in the West Bank and 
we saw another shift in Palestinian cross stitch.
 During the 
Israeli 
occupation
 at this time
 it was illegal to be in possession of a Palestinian flag
.
 Women began to stitch Palestinian flags on their dresses in defiance of 
this law as a form of Palestinian 
solidarity. They would also stitch the word 'Palestine' in English and Arabic
, and use thread in the four colors of the Palestinian flag (green, red, white and black). 
Although in present day women are holding on to the folk art of Palestinian embroidery and cross-stitch, the traditional dresses are worn for weddings and other special occasions. However, we are seeing new trends emerging where 
only small 
sections of cross-stitch are being added to modern shirts, jackets, pants, and dresse
s
, 
g
iving
 cross-stitch a hip and stylish flare to everyday attire. 
There are many organizations that assist Palestinian women in selling their cross-stitch crafts
. These handcrafted items include 
wallets, p
urses and sunglass cases
, etc
. The o
rganizations are a great way for 
women to make additional income while still preserving an important part of Palestinian heritage. 
Check out 
https://www.shopwithoutborders.com/collections/all/cross-stitch
to purchase Palestinian cross-stitch handmade by local women and to support this wonderful art form! 
Labor of Love exhibition, The Palestinian Museum. 
---